Organise yourself get fit and healthy. It's often lack of organisation rather than lack of time that stops people getting fit. This health and fitness planner set allows you to set goals, plan, schedule, track and reflect.
Included in the health & fitness planner set
Fitness goals worksheets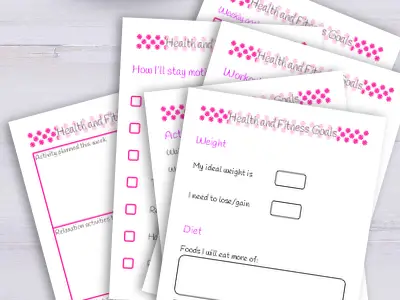 Setting goals gives you direction and allows you to measure your progress. Try to make your goals realistic and break down your big goals into smaller, more manageable goals.
Reflection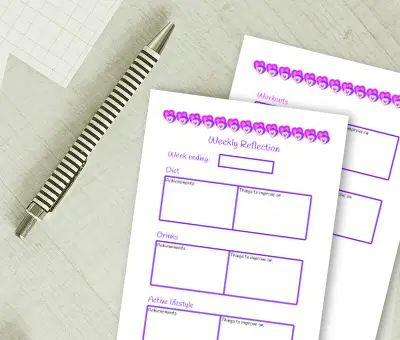 You probably won't always achieve your goals or do what you set out to do. Or you may have days when you do better than you expected. Reflecting on your progress helps you to understand why things went well or badly and to plan for success going forward.
Activity Tracker
Both organised exercise and general lifestyle activity count towards better health, fitness and weight control. You should aim to become more generally active as well as doing workouts. Use this tracker to plan when you will do the activities you've chosen on the Health and Fitness Goals planner.
Weight and Measurement Tracker
If you're trying to lose weight, gain weight or just improve your body shape, use this sheet to track your progress. To get a better idea of your progress, use body measurements as well as your weight.
Step Tracker
The activity tracker includes walking, but this one is specifically for how many steps or minutes you do per day. You can track your steps on your smartphone or with a pedometer or fitness tracker. Alternatively, just keep a record of how many minutes walking you do each day. Set yourself a new target each week, so that you gradually increase your walking.
Weekly exercise plan
Use these sheets to schedule your planned workouts.
Exercise Time Planner
Every little helps! Use this planner to work out any opportunities to fit in a bit of exercise or activity. Even if you only have 5 minutes, you can go for a quick walk, do a fitness challenge, a few Pilates exercises or some stretches for example.
Buy the Health & Fitness Planner Set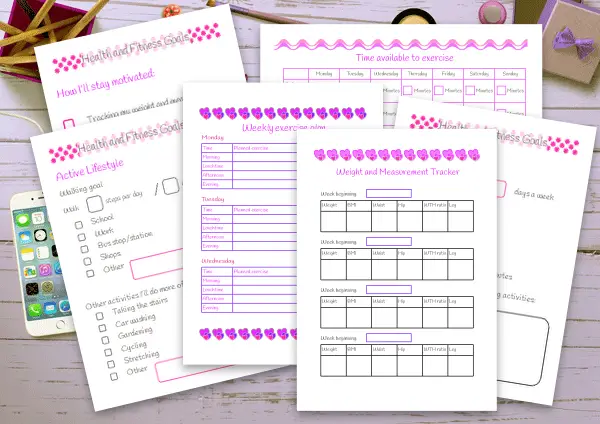 Buy securely using any credit or debit card from the My Fitness Planner Selz shop. As soon as your payment has processed your files will be available for download.