Kettelbells are ideal to use for home workouts because they are very versatile and quite compact. You can use them for upper and lower body strength, core and even cardio training. The kettlebell swing is one of the best kettlebell exercises for whole body strength training. The squat part works all the leg muscles, the swing itself works the upper body and the core has to work to stabilise the movement.
How to do the kettlebell swing

Kettlebell swing challenge
You'll need either 2kg and 4kg kettlebells or 5lb and 10lb. You could buy them individually, but sets are usually better value.  The 30 day challenge starts with just 8 reps of 2kg or 5lb and progresses over the 30 days to 40 reps of 2kg/5lb and 10 reps of 4kg/10lb. Before you do the challenge each day, you should warm up your muscles and joints by doing 10 reps without any weight. (Read more about warm ups here.) Please also read my general exercise safety guidelines.
Challenge in kg
Challenge in lbs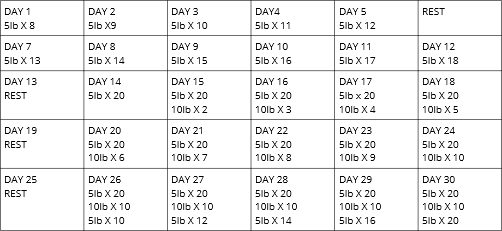 Pin this for later
More fitness challenges to try: