Kettelbells are ideal to use for home workouts because they are very versatile and quite compact. You can use them for upper and lower body strength, core and even cardio training. The kettlebell swing is one of the best kettlebell exercises for whole body strength training. The squat part works all the leg muscles, the swing itself works the upper body and the core has to work to stabilise the movement.
How to get started – choosing and buying kettlebells
The different types available are vinyl, plain cast iron and coated cast iron. Vinyl kettlebells are cheaper and a good option to start with. However, if you find you like working with them and want to move up the weights, cast iron ones are better to grip. Coated cast iron gives some cushioning, so they are less likely to damage flooring etc.
The most important thing for comfort is that the handle is wide enough for both your hands to grip. You would think this is an obvious design feature, but it's surprising how many have handles which are too small to be comfortable.
Start with small weights – only move up to bigger weights when you are confident you are working with good technique. Remember that you should be able to maintain core abdominal engagement throughout the movements. You should only progress your weights when you can do this. Remember also that if you want to make it more cardio, you need to use light weights and high reps.
Adjustable kettle bells might seem like a good idea to save money and storage space, but in practice it interrupts your workout having to keep changing the weights.
How to do the kettlebell swing
Kettlebell swing challenge
You'll need either 2kg and 4kg kettlebells or 5lb and 10lb. You could buy them individually, but sets are usually better value.  The 30 day challenge starts with just 8 reps of 2kg or 5lb and progresses over the 30 days to 40 reps of 2kg/5lb and 10 reps of 4kg/10lb. Before you do the challenge each day, you should warm up your muscles and joints by doing 10 reps without any weight. (Read more about warm ups here.) Please also read my general exercise safety guidelines.
Challenge in kg
Challenge in lbs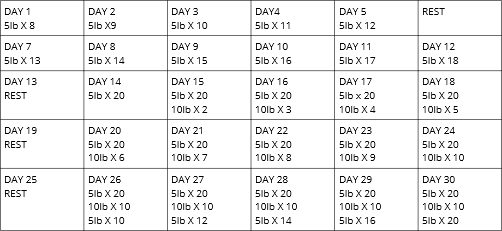 Pin this for later
More fitness challenges to try: