Improve your leg strength and endurance each day with this 30 day wall sit exercise challenge. The wall sit works all the main leg muscles, especially the front of the thighs. All you need to do is to get into the wall sit position and then hold for the given number of seconds each day. The challenge is in a printable sticker format, so that you can put a sticker for each day in your planner or diary. You can also use the printable as a whole sheet if you prefer.
Benefits of the wall sit exercise

Disadvantages of the wall sit exercise
There are also a few drawbacks to this exercise:
It's a static exercise – it only trains the legs in one position
It's a strength exercise only and contributes little to cardiovascular fitness or weight control.
Although the exercise can be progressed by increasing time held, long holds are time-consuming and boring!
How to do the challenge
You just need to get into the wall sit position following the instructions below and then hold for the given number of seconds each day. Please read these safety guidelines before exercising. Please also be aware that as the wall sit exercise involves holding a static contraction, it isn't suitable for anyone with high blood pressure.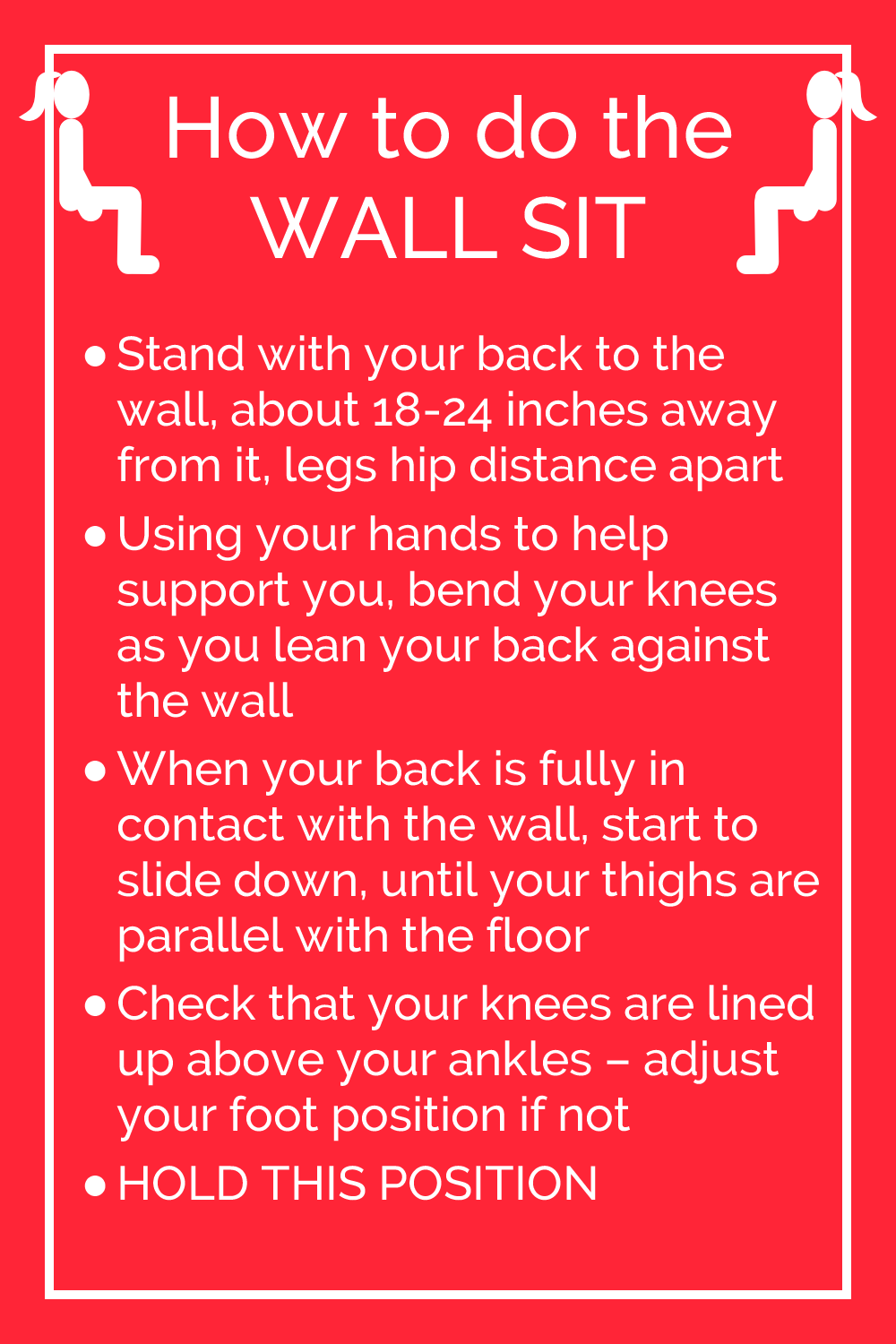 To come out of the wall sit, slide back up the wall and use your hands to push away from the wall.
Daily hold times
These are the number of seconds you should hold the position each day. You can get a printable copy by entering your e-mail address below, to use as a single sheet or stickers.
Instructions for printing and cutting
If you're cutting manually, then download either the PDF or the PNG file  in whichever size you want.  To save PNG files to desktop, you'll need to right click and select "save image". Print onto a single sheet shipping label, or alternatively print onto plain paper and use a glue stick. Cut the stickers out with craft scissors or with a craft knife.
If you have a cutting machine, you can use the PNG file,  together with the blackout files for easy tracing.
Sign up for My Fitness Planner updates and get the free printable download link e-mailed to you:
After you sign up, you'll get 3 e-mails:
The first will ask you for a one-click confirmation of your subscription
Once you've confirmed, you'll get a second e-mail with a link to your download and a separate welcome e-mail
Related to wall sit exercise challenge – more leg workouts for you to try:
The following content is only available to logged in users. Click to log in (opens in a new window – refresh this page after logging in).