It's helpful to have a plan for any kind of fitness training and walking for fitness is no exception.  Having a walking program to follow will help you to schedule your walking in and keep yourself accountable. It will also help you to continue to improve your fitness by increasing your effort levels, if this is what you want to do. This collection of walking programs ranges from ones that help you to just get more active and do a short walk every day, to 6 week  programs to help you increase your fitness week on week.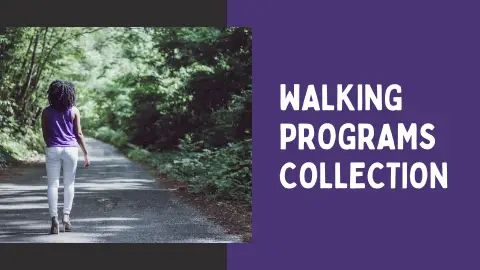 What sort of program do you need?
There are lots of different walking programs on this site, because not everyone wants the same from a program. For example,  you may be looking to get started with walking or maybe you already do some walking but want to get more out of it. Maybe you have a good amount of free time that you can spend walking, on the other hand, you may be trying to fit it around a busy lifestyle. And you may be happy just to get more active, alternatively you may want a progressive program. So, here's a summary of the programs available:



Walking programs to get you more active
A challenge to get you started
If you want to get into the habit of daily walking, try this 30 day challenge
Organise yourself to do 600 minutes a month
This isn't exactly a program – it's  a tracker to help you achieve the minimum recommended physical activity levels. If you just want to be active and healthy walking at a normal pace, try this one.
Get the most out of walking 10 minutes a day
If you don't have much time for walking, try this 10 minutes a day interval program. It has a different interval combination each day, to keep your training varied.
6 week walking programs
If you want to get fitter with a progressive program, there are 3 progressive interval programs to choose from:
Brisk walking
This is the lowest intensity and most straightforward of the three. A 20 minute walk to be done at least 3 times a week, with intervals of normal and moderately fast walking. The intervals change over the 6 weeks, so that there is more time spent at the faster level.
90 minutes a week
This one has 3 levels of walking speeds and the intensity increases every 2 weeks. There are 3 x 20 minute walks and 3 x 10 minute walks each week, on alternate days.



Lose weight walking
Another 3 level interval program. In this one, the intensity increases every week and the plan is split into 4 x 15 minute walks on weekdays and 2 x 30 minute walks at the weekend.
Walking to running
If you want to have a try at running, this is a good program to start with. Over 8 weeks you'll go from mainly walking to running 2km.
Indoor walking
Finally, if you want an indoor option, this 20 minute circuit includes various combinations of marching in place, forwards and side steps.