Last updated on July 4th, 2022 at 09:53 am
Get some inspiration for walking for health and fitness with these 5 simple goals. Choose whichever one suits you, or work through them one by one. See the end of the post to download the walking goals printable.
5 walking goals
Walking is a low risk activity, however please read these general safety guidelines before you do any of these walking plans.
Goal # 1 increase your walking speed
The goal here is to cover more distance in 25 minute walk each week. The walks are split into intervals at different speeds as follows:
Level 1 is a normal walking pace.
At level 2 you're walking a bit faster – enough to make you aware of your breathing.
Level 3 is a fast walking pace, making you feel warmer and slightly out of breath.
Aim to do the walk on at least 3 days per week – ideally spread out through the week.
Goal #2 walk every day
This is a very simple goal – just get out and walk every day for at least 10 minutes. You can record your daily time on the printable.
Goal #3 walk 3 miles
This is a schedule to take you from walking 0.5 miles to 3 miles over the course of 6 weeks.  The schedule is based on 3 walks a week – ideally space your walks out through the week.
Goal #4 4 week challenge 15 to 30 minutes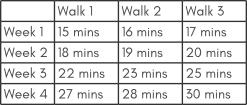 The 3 mile walk above takes about an hour. If you don't have this much time to spare, then try the 4 week 15 to 30 minute challenge. Again, it's based on 3 walks, ideally spread out over the week. You'll be increasing your walk times by one or two minutes on each walk, ending with a 30 minute walk.
Goal #5 walk a mile a day
Another daily challenge, more specific that the "walk every day" one above.  Your goal is to walk a mile every day. You can plan a one mile route using a route planning app or website. Alternatively just walk for 20 minutes at a normal walking pace – you should cover roughly one mile in this time. There's a chart on the printable to tick off your walk as "done" each day.
Get the walking goals printable
Sign up for My Fitness Planner updates and get the free printable download link e-mailed to you:
After you sign up, you'll get 3 e-mails:
The first will ask you for a one-click confirmation of your subscription
Once you've confirmed, you'll get a second e-mail with a link to your download and a separate welcome e-mail
Related to walking goals – read now or pin for later