There are many benefits to walking at any time of day, but an early morning walk has even more benefits of its own (see below). It doesn't need to be a long walk to enjoy the benefits – the suggested schedule given here is for a 15 minute walk. It's a simple 6 week plan starting with 2 walks a week and working up to 5 walks a week. The idea is to get you into the habit of a regular morning walk and, by tracking your walks, work out the best days and times for you to take your walks.
6 week morning walk schedule and tracker

The printable schedule and tracker allows you to schedule your walks, record whether you did them and make notes about them. Making notes can help you see what works best for you and help keep you motivated. For example, you could write down:
If you skipped your walk, what was the reason?

Whether you had breakfast before or after your walk

What time you got up

How you felt before and after your walk

Whether you enjoyed your walk
Over the weeks you should start to see patterns emerge of when you're most likely to enjoy your walk, benefit from it or not do it at all. See the bottom of the page for how to get a link to the download.
Benefits of a morning walk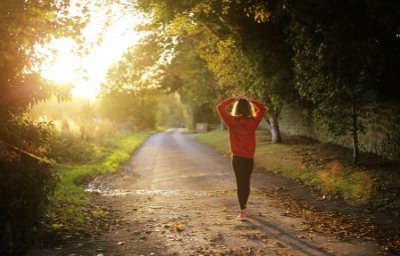 Wakes you up
If you struggle to get going in the mornings, then a walk in the fresh air can make you feel awake and energised.
Improves your mood
All exercise is good for mental health, especially if it's done outdoors. An early morning walk will reduce stress and anxiety, giving you a sense of calm and wellbeing.
Ensures that you get your daily exercise
If you exercise right at the start of the day, then it's done and won't end up being skipped because you've run out of time or are too tired.
Less noise and pollution from traffic than a daytime walk
If you go for an early morning walk, the roads will be quieter and the air fresher.
Increases appetite
Health and nutrition experts advise us to eat a healthy breakfast. The main reasons for this are to avoid getting too hungry and/or having blood sugar lows, both of which can result in over-compensating with unhealthy foods. However, some people struggle to eat first thing in the morning and could benefit from a walk before breakfast to increase their appetite.
Gives you a chance to organise your thoughts and plan your day
If you spend your walk time thinking about the day ahead and planning your schedule, this will help you to feel more organised and ready for the day.
Achieving something first thing gives you a positive attitude to the rest of the day
If you start your day doing something that is good for your mental and physical health, you'll feel a sense of achievement that will help to keep you positive for the rest of the day.
General benefits of walking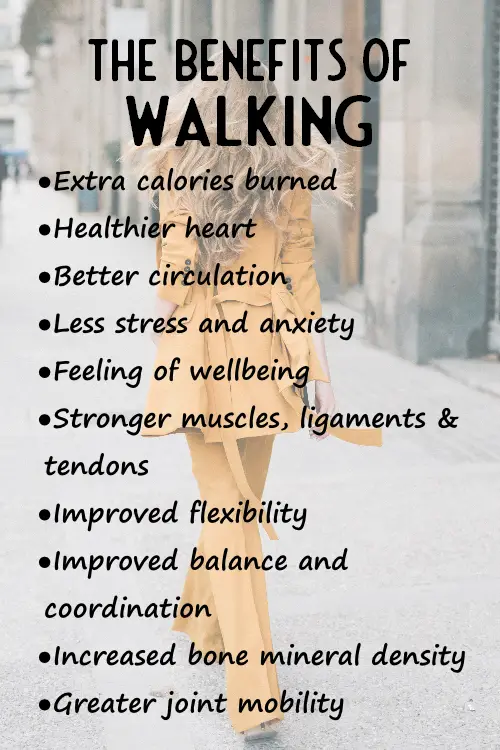 Get the morning walk schedule and tracker PDF
Sign up for My Fitness Planner updates and get the free printable download link e-mailed to you:
After you sign up, you'll get 2 e-mails, one will have a link to your printable download and the other will be a welcome e-mail.
If the e-mails haven't turned up within a few minutes, please check your junk folder, as some service providers have very strict filters.
Related to morning walk