Starting to run isn't easy. Although it's a natural activity, once we become adults we rarely do it unless we engage in sport or fitness. Running is hard work for our hearts and legs and if you're out of practice it can seem almost impossibly hard. It's also a high impact activity which may feel uncomfortable if you're not used to it. This running challenge for beginners eases you in, starting with just 5 minutes of running. It also has rest days and "active rest" days where you walk or do a short run.
Running challenge for beginners schedule
Days 1-12
For the first 12 days, running alternates with walking.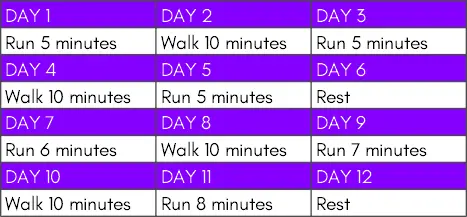 Days 13-24
After day 12, it's running every day, with a short 5 minute recovery run every other day.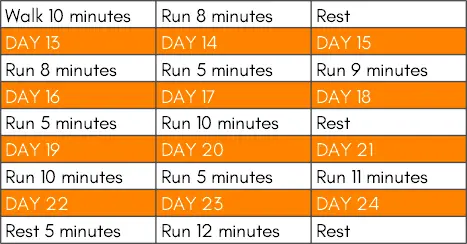 Days 25-30
In the last 6 days, the longer run gets up to 15 minutes, while the recovery run is 8 minutes.

Planning a route
Each day you'll cover a different distance, so to keep route planning simple:
Plan a route that is at least 1.5km/1mile in length. This should be long enough for all the runs, including warm ups and cool downs (see below).
Each day, run (or walk) along your route for half that day's time and then turn around and come back. So, for example on day 1 you would follow your route for the warm up plus 2.5 minutes running before turning around. As you progress through the challenge, you will be travelling further along your route each day.
Starting to run – what you need
You need comfortable clothes, preferably with layers that you can remove. Although it's not necessary to buy expensive running shoes, you should wear training shoes that will cushion some of the impact of running. You should also take a bottle of water with you.
General exercise safety
Warming up and cooling down: Before starting to run, you should walk for 2-3 minutes to give your muscles and joints time to warm up. At the end of your run you should walk again until your heart rate and breathing return to normal.
General exercise guidelines: please read this exercise safety information before you start.
Download the running for beginners challenge schedule
Sign up for My Fitness Planner updates and get the free printable download link e-mailed to you:
After you sign up, you'll get 3 e-mails:
The first will ask you for a one-click confirmation of your subscription
Once you've confirmed, you'll get a second e-mail with a link to your download and a separate welcome e-mail
The following content is only available to logged in users. Click to log in (opens in a new window – refresh this page after logging in).

More on starting to run