If you're reading this, then you've probably decided to take up running but don't know where to start or what you should be aiming for. You might have outcome goals such as losing weight, toning up or improving your health. Knowing what you want to achieve is a good start, but you need to set out how you're going to achieve it. This post gives you 10 running goals for beginners ideas, suitable for both treadmill and outdoor running. 
10 running goals for beginners
#1 Aim for a distance
This is a popular goal. Choose a distance that you want to aim for and then build up to it. So for example if you want to be able to run 5K, this would be your week 12, run 3 distance. Then work backwards from here. For example week 12 runs 1 and 2 could be 4.8K and 4.9K and week 11 runs could be 4.5K, 4.6K and 4.7K etc. Whatever your goal distance is, you can use the chart to break it down into manageable steps.
#2 Aim to run for a specific amount of time each week
When you're just starting, the most important thing is to just get into the habit of regular running. A good initial goal therefore is to run for a set amount of time each week, without worrying about how far or how fast you run. You can track your weekly minutes using the chart on the download. A good starting point would be an hour a week – split into 3 x 20 minute runs.
#3 Aim for a specific number of steps each week
If you have a step tracking app, you might prefer to aim for a weekly step count. 1000 running steps would be a good starting point.  There's a chart on the download to track your steps.
#4 Do a running challenge
Rather than setting your own goals, you could try a running challenge:
#5 Run every day
Another way to do a running challenge is to just aim to run for a set number of minutes each day for 30 days. You can use the chart on the download to tick your minutes off each day.
#6 Burn a set number of calories every week
If one of your objectives is to lose weight, then you might find it motivating to set a calories goal. As a rough guide you should burn around 250 calories in 20 minutes slow running. So a good starting point would be to aim to burn 750 calories in a week. You can use the chart on the download to keep track of your weekly calories.
#7 Achieve a specific speed
You could also set a speed target. To achieve this, you can either run your chosen distance as fast as you can each time, or you could use sprint training.
For example, suppose you set a goal to run a 3 miles in 30 minutes. To achieve this, you could run at a steady pace for 30 minutes every time. As you get fitter, you would be able to run faster and work towards your goal of covering 3 miles. Alternatively, you could split the 30 minutes into intervals, where you run as fast as you can for a set interval, then jog slowly to recover ready for the next sprint interval.
Whichever method you use, you can use the chart on the download to track your progress.
#8 train for an event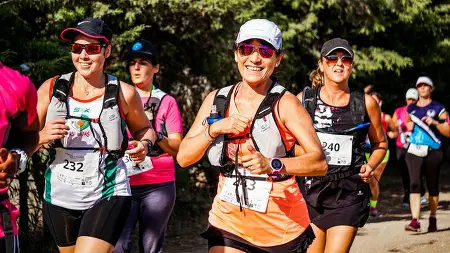 Charity events make good goals, because there is a set distance and date. They are also fun, community events and have the added objective of raising money for a good cause.
#9 Improve your Personal Best every week
This is a less specific goal, but is good because it focuses on weekly improvement. You need to decide on a distance that you're comfortable with. For beginners, anywhere between 2-5km (1-3 miles) would be good. Now cover this distance and time yourself. It doesn't matter if you combine walking and running. You just need a starting point. Your goal is simply to improve on your time every week.
#10 Hill run goals
If you like a bit of variety, set yourself hill targets. Find a hill that will take you about 30 seconds to run up. Or, if you're using a treadmill, run on a gradient of  8% for 30 seconds. Your weekly goal is how many times you want to run up the hill. Make sure you have warmed up by running on the flat first. When you reach the top of the hill, do a slow jog or walk down to recover and repeat. On a treadmill, bring the gradient back down to 0% and walk or jog for 30-45 seconds until your heart rate has recovered.
Buying a treadmill for home use
Now that folding treadmills are widely available, having a home treadmill doesn't mean you need a dedicated workout space. You can fold your treadmill up and store it out of the way between workouts. If you're thinking of buying a home treadmill, here are some points you should consider:
If you're going to be using the treadmill for running, avoid very lightweight models that are only suitable for walking speeds. Also, a cushioned running/walking deck will help to absorb impact.
Dimensions: there's a slight variation in dimensions between models. If you're tall, you might prefer a longer walking/running deck to allow for a longer stride. Obviously, the treadmill needs to fit in your chosen storage place when it is folded away.
What sort of a console do you want? Is it important to you to have a multi-feature console with a choice of preset programs, or will you be happy with something simple that just lets you set speed and incline? Extra functions add to the cost of the treadmill, so think about whether you really need them.
What is the incline range? Some treadmills only have a limited incline range. Models that offer up to 12% give you more options to vary your workouts and to challenge yourself more as your fitness improves.
Maximum speed – if you run fast, or plan to do sprint intervals, you should bear the maximum speed in mind. For walking, or average speed running, any treadmill will be fine.
Recommended folding treadmill
This is a reasonably priced folding treadmill with an incline up to 12% and a maximum speed of 8mph (fairly fast running speed). The display screen shows time, speed, distance, calories burned, and heart rate and you can connect your device to play music through the built in speakers.
Get the running goals for beginners printables
Sign up for My Fitness Planner updates and get the free printable download link e-mailed to you:
After you sign up, you'll get 2 e-mails, one will have a link to your printable download and the other will be a welcome e-mail.
If the e-mails haven't turned up within a few minutes, please check your junk folder, as some service providers have very strict filters.
Related to running goals for beginners